I get asked that question a lot. In fact, I was speaking to a Canon employee at their Learning Center in Costa Mesa, CA last week and he asked me the same question. I think it is just like what cloths should I wear on a particular day.  I change my camera settings to fit the situation.  Since I am an outdoor natural light shooter here are my initial settings when I go out and photograph nature.
f/8, 1/1500, ISO 400- I put my lens on auto focus and go to manual if the subject matter remains still. I shoot primarily in Manual or Aperture Priority. I adjust my settings as the circumstances dictate.  I also use "live view" to determine my settings too.  Click here for a description of live view. If I am following a fast-moving animal, I am usually on Auto Focus with a low or high burst rate, meaning how many frames I can click off at a time.
Here are three different photos all using my initial walk around ready to go settings. I used a Canon 70×200 2.8L  lens for all three photos. Note that having a glint in the eye of a bird helps make a bird photo better.
Resting Pelican- Marina del Rey, CA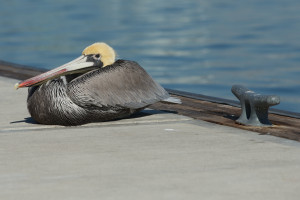 Pelican- Marina del Rey
Seagull- Marina del Rey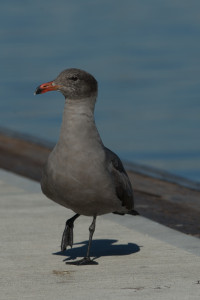 One setting change on this seagull. The ISO was 200 not 400. That is why the photo is a little darker.