I wrote about the rule of odds. Which is to use odd number of things such as 3 rocks rather than two, or 5 puppies rather than 4 if possible.
Here is a very nice example of three mushrooms that seem to work.  What do you think?
We Love You Little One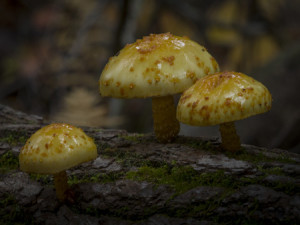 If I kept the two large mushrooms, it would work but would not be as effective.
It maybe a little hard to see, here is the same shot only with a simple black border and key line to help keep the eye focused on the mushrooms.  A simple matte can sometimes be the difference between an average photo and a winning photo.  I usually try both ways and then make a decision. It also depends on who is going to judge the photo.  If it is a bird shot and i submit it to a bird association, I most likely will not use a border. They want it natural.  If I am submitting to a fine art competition, I may consider a border.
We Love You Little One- with border and key line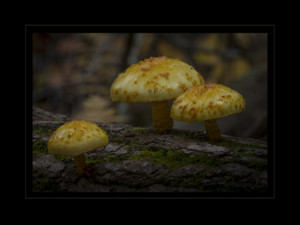 I submitted this photo as a macro shot with the border and key line.  I should know how it did after February 10th.