These two words will help you get THE SHOT.  For most it does not come naturally. You have to train your self to anticipate what the subject will do. Plus a little patience helps too. Yes, I always wonder if I had just stayed a little longer could I have made a better shot. Coulda woulda and shoulda are always sitting on my shoulder.
Red Wing Black Bird- Cape May, NJ
I watched the red wings flying and landing on the cattails. It was a clear windy day. The birds would not stay long on the cattails in addition to the cattails swaying in the steady breeze. I had no time constraints so all I had to do was anticipate the movement of the bird and the sway of the cattail and be patient.  One trick that I used is to set my camera up on a particular cattail that seemed to be a favorite of one of the red wings. When the bird is just approaching as well sitting start firing away. You have a good chance of getting a winner shot. Caveat- get your settings set before the action starts. I also used a tripod with a gimbal head for ease of movement.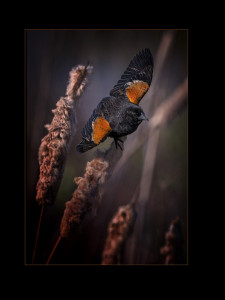 Dinner on the Run- Marina del Rey, California
I watched the squirrel and the young inexperienced hawk play cat and mouse. The squirrel knew just how far he was to his tree escape.  The hawk would swoop/glide down from a distant tree when it thought the squirrel was far enough away from the tree.  The trick was to catch the two in action. Hence, anticipation of what is to come and waiting long enough for the event to happen-patience.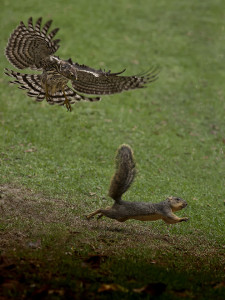 Triple Threat- Columbia, NJ
These three wolves were playing in the water. They love the water. I watched them for awhile and noticed a pattern of behavior. They would run up and down the rocks, run into the water and then back up on the rocks. I told myself that if I waited long enough they might just line up. That is exactly what happen.  This is the fourth of four shots. It never happened like this again. It took- Anticipation and Patience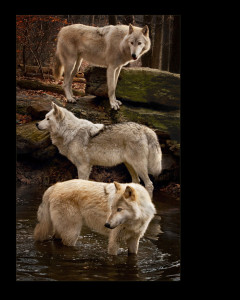 Keep on clicking and remember when shooting wildlife- Anticipate and be Patient